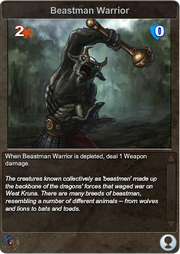 Beastman Warrior is an enemy-only Beastman NPC card with 2 attack and 0 defense.
Card Effect
When Beastman Warrior is depleted, deal 1 damage.
Card Description
The creatures known collectively as 'beastmen' made up the backbone of the dragons' forces that waged war on West Kruna. There are many breeds of beastman, resembling a number of different animals - from wolves and lions to bats and toads.