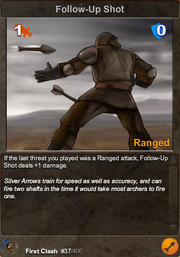 Follow-Up Shot (First Clash, Legacy Card, #37) is a common Ranged weapon card with 1 attack and 0 defense.
Card Effect
If the last threat you played was a Ranged attack, Follow-Up Shot deals +1 damage.
Card Description
Silver Arrows train for speed as well as accuracy, and can fire two shafts in the time it would take most archers to fire one.
How to Obtain
Used in Crafting
Edit
Other Versions
Edit